On Saturday July 22 2023 we had our annual EME SSTV party…
Friday, October 14, 2022 and Saturday, October 15, 2022,…
CC BY-NC-ND 2.0 NASA / Thomas Pesquet
One of the many experiments aboard the ISS is an amateur radio…
Manuel Steinbrecher
The EUCARA-2021 Web Conference was held on Saturday, April 17, 2021, at the 65th anniversary of the inauguration of the Dwingeloo Radio Telescope.
Half an hour live stream demonstration on Wednesday, August 12 at 20:00 CEST. Simon Bijlsma and Frans de Jong explained and showed how you can observe meteors (the Perseids) by means of reflections from radio waves on the meteor trails.
After a first live stream this year in which we pointed the telescope at the Sun, we turned the telescope to the Moon last July 19. More than 110 viewers watched how we sent signals to the Moon and then catched the reflection against the Moon.
During the KNVWS National Sun Watching Day July 5, 2020, live streaming from the radio telescope was performed twice, while the radio telescope was pointed at the Sun and explanations were given about the radio telescope and the radio waves emitted by the Sun.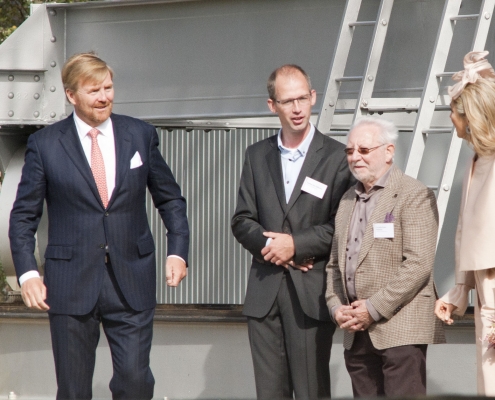 King Willem-Alexander and Queen Máxima also visited the Dwingeloo Radio Telescope on Wednesday 18 September 2019 during their regional visit to Southwest Drenthe.