Contribution of the Dwingeloo Radio Telescope to the Artemis…
JAXA
If all goes according to plan, a new-generation rocket from…
The Würzburg Riese radio telescope with which Leiden astronomers led by Prof. Dr. J.H. Oort in the early 1950s at Radio Kootwijk first mapped the spiral arms in our Milky Way has been found.
Manuel Steinbrecher
The EUCARA-2021 Web Conference was held on Saturday, April 17, 2021, at the 65th anniversary of the inauguration of the Dwingeloo Radio Telescope.
This year marks the 70th anniversary since the 21 cm hydrogen…
Half an hour live stream demonstration on Wednesday, August 12 at 20:00 CEST. Simon Bijlsma and Frans de Jong explained and showed how you can observe meteors (the Perseids) by means of reflections from radio waves on the meteor trails.
On Saturday morning, July 18, 2020, the moon passed in front of the Crab Nebula (M1) very early. Approximately every 9 years such an occultation is visible from the Netherlands. In November 1955 this was the very first observation with the Dwingeloo Radio Telescope. Paul Boven and Hans van der Meer performed this historical observation again with the radio telescope.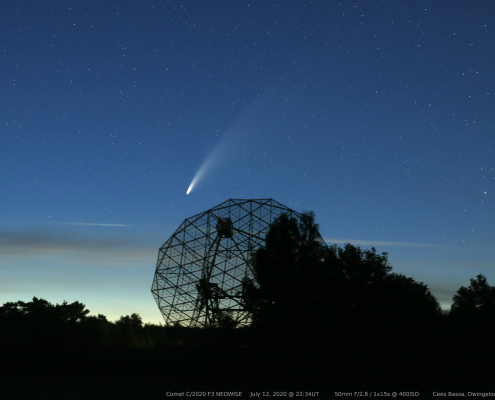 Comet C / 2020 F3 (NEOWISE) is still beautiful in the…